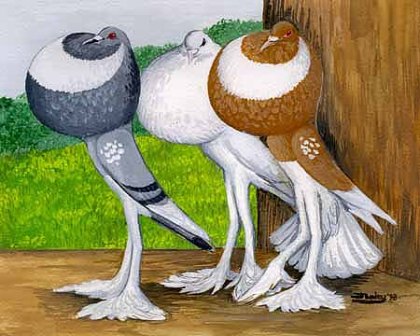 Dues: $10.00 - USA/Canada
Juniors (18 & younger) $5.00
$15.00 US Dollars - International
Bi-annual Bulletins
Regional Shows

Send Checks or money orders to:
NEPA/
Rick Wood
501 Linden St. SE
Sleepy Eye, Mn. 56085
(507)794-2790
Email: rrwood45@hotmail.com

For more Information Contact:
Jeff Clemens
2425 Guenever Court
Altoona, Iowa 50009
719-339-6394
Email:Clemdog04@yahoo.com or
EnglishPouters2013@yahoo.com



Site last updated: 15 Oct 2015
The National English Pouter Association was established in 1895
and has been re-established a number of times since then. In 1972
John Allen and Herb Matheson revitalized the club, in 1984 the club
was again re-established by Darwin Peterson and Benjamin Benegas.
This time Rick Wood and myself are bringing the club back to life
and promoting the "Mighty English Pouter"! Please come and join us,
let's make history together and continue the legacy of NEPA.